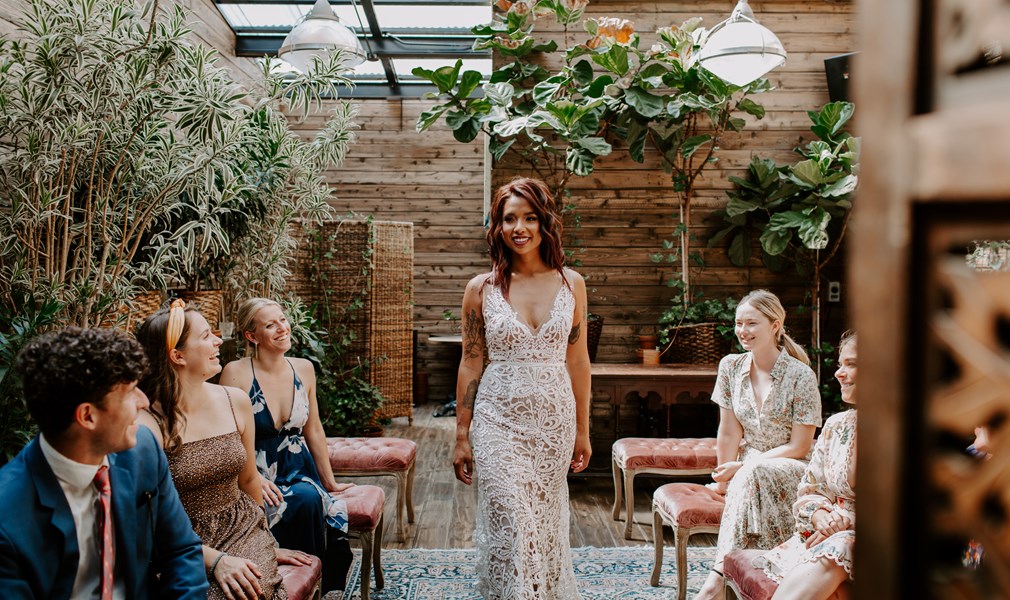 Located in the heart of Wicker Park on the top floor above Mama Delia and Bordel, Botánico is a stunning 2,500-square-foot dedicated private event space with two distinct rooms. Decorated with Murano crystal wall lamps, gently worn Persian rugs, farmhouse dining tables, colorful large-scale paintings from local artists and lush tropical greenery, Botánico offers the signature exotic vibe and atmosphere for which Bonhomme Group is known. High ceilings coupled with a wall-to-wall skylight, rustic wood-paneled walls and a dramatic half-moon floor-to-ceiling window overlooking Division Street add to Botánico's exceptional interior design.
Perfect for a variety of celebrations, the space can hold up to 75 guests for reception-style parties and 50 guests for formal sit-down dinners. Several cozy seating areas recall a vintage aesthetic, crafted to accommodate guests over lingering dinners. Sofas in Hollywood Regency-inspired frames with fully rounded arms and plush velvet dining chairs offer sumptuous silhouettes worth sinking into.
Unique to Botánico is its beautiful open chef demo kitchen and bar, which is ideal for cooking classes, product launches, wine tastings, chef dinners and cocktail classes as well as more informal culinary-focused parties and celebrations. The openness of the space itself provides easy viewing of the kitchen from multiple areas.
Botánico also features a premier sound system as well as DJ equipment. All audio-visual and specialty lighting needs can be accommodated upon request for an additional fee.
PRIVATE
Seated // Up to 50 guests
Cocktail Reception // Up to 75 guests
SEMI-PRIVATE
Seated // Up to 32 guests
Cocktail Reception // Up to 40 guests